School Counseling Department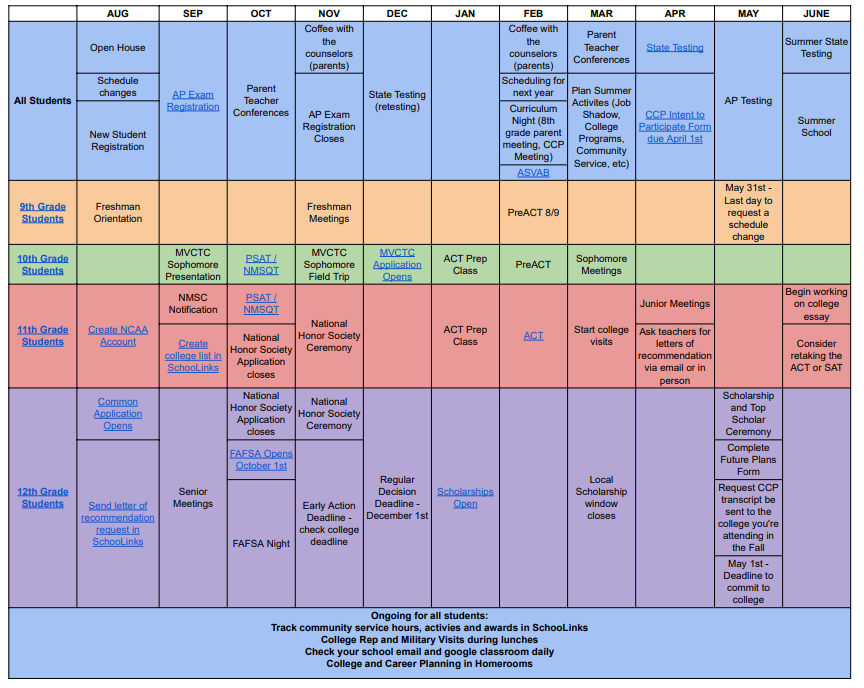 Buckeye Precollege Summer Institute
Ohio State's Buckeye Precollege offers academically ambitious high school students the opportunity to participate in a two-week residential academic program designed to give them a taste of college life and prepare them for the road ahead. Deadline to apply: March 31, 2023
Summer Engineering Experiences at UD
Summer Engineering Experiences at UD camps offered by the School of Engineering provide students with an opportunity to explore the diverse fields of engineering through collaborative and interactive faculty-led sessions. This four-day, three-night camp will introduce students to career opportunities in engineering and engineering technology, and offer a clear picture of what it's like to be an engineer. Students will also experience living on a college campus and learn about the college admission process. Registration deadline: April 14, 2023
Multi-Ethnic Men in Engineering Camp - June 14-17
Women in Engineering Camp - June 14-17
Co-Ed Engineering Camp - June 21-24
Miami University's Summer Scholars Program
Miami University's Summer Scholars Program is a selective program that provides a rich, early college experience for academically talented rising high school juniors and seniors. Students will get a glimpse of life on campus as they dive into a specific academic program with faculty and other students who share their interests.
Students who attend Summer Scholars and then apply for undergraduate admission to Miami receive priority consideration for Miami merit scholarships and admission to selective programs. Deadline: May 1, 2023
Ohio Air National Guard Community Day
The 178WG located in Springfield, Ohio will be hosting a Community Day on April 20, 2023, from 9AM-2PM. Community Day is a day when the base will be open to the public and give everyone a chance to see what the Ohio Air National Guard and the 178 WG does and how we operate! This day features hands-on displays of the wide-reaching missions at the Wing from Remotely Piloted Aircraft, all things Intelligence Surveillance and Reconnaissance, Swift Water Recuse, and natural disaster response. Community day will also include a base tour, and so much more! Please register by April 13, 2023.
2023 Curriculum Night
Thank you for those who attended our Curriculum Night. Here are the presentations that we held that night. CCP Presentation Preparing for Freshman Year
University of Findlay College of Pharmacy
V.I.P.2 Day is open to current freshmen, sophomores, juniors (and seniors if they are still exploring their options) who are dedicated to academics, have an aptitude for science and math and are considering a career in healthcare.

Registration for this one-day event is free! Please invite students who are able to attend Friday, March 24th, 2023 from 9:00 a.m. – 3:00 p.m. using this Registration Link.

Pharmacy Summer Camp is an overnight camp open to any high school student who will be either a junior or senior in high school in the fall of 2023. Students can choose to register for either June 21-23 or June 26-28, 2023.